Celebrating Rory // Anchorage Family Photography
Family photography doesn't have to be painful you guys. Sometimes it's really just an hour of your day – popped into a celebration! Raising a little one to that one year mark is a massive accomplishment – for the whole family! You have sacrificed sleep, attention, and for siblings, probably a lot of your toys to the new baby. And now that new baby is… well… not really a baby anymore! But they are fantastic and fun and we know you're all looking forward to the next phase of development which usually includes more sleeping through the night!! Hopefully…
Babies are beginning to stand, some are walking, some are just really good at crawling – but either way – they are mobile and gaining independence!!
So when the whole family can participate in the party we can make it not only about the littlest one, but also about celebrating siblings and parents and all the work that you have accomplished together surviving the first year.  It's a big deal!
I love to capture an individual portrait of each child at every family session. Did you have these on your walls as a kid? I mean, my parents just had our school portraits on the walls – but I always remember feeling so proud of MY solo picture. When you grow up with 5 siblings though – anything you get on your own is pretty special!
Guys – you all know I love a good cake smash session but I always warn parents – 50% of kids actually hate cake at their 1 year and won't eat it.
I mean – think about it – have your kids ever eaten frosting before they're 1? Probably not! We are always trying to hard to give them healthy foods, not processed, etc – and then we shove this sugar filled thing in front of them, and no kidding, half of them taste it and are like 'Nope!!'
Sweet little Rory was definitely in that camp. She is a little spit fire – and I adore her – and she was DEFINITELY not having that cake!  But we did convince little miss Rory to take a few pieces of smoked salmon that we stuck in the frosting to at least get her to sit next to her cake! It's all about tricks friends. I've got a few up my sleeve… Also – ninja mom skills. I've got those too.
Ok – she was NOT happy with us for trying to feed her cake. And she was even more mad about having to be cleaned up! But girl – I can't send you home covered in frosting!! And honestly – this mad face is my favorite! I think because it captures her personality so well. Did I mention she's a spit fire? So independent! She reminds me so much of my youngest – everything has to be her way!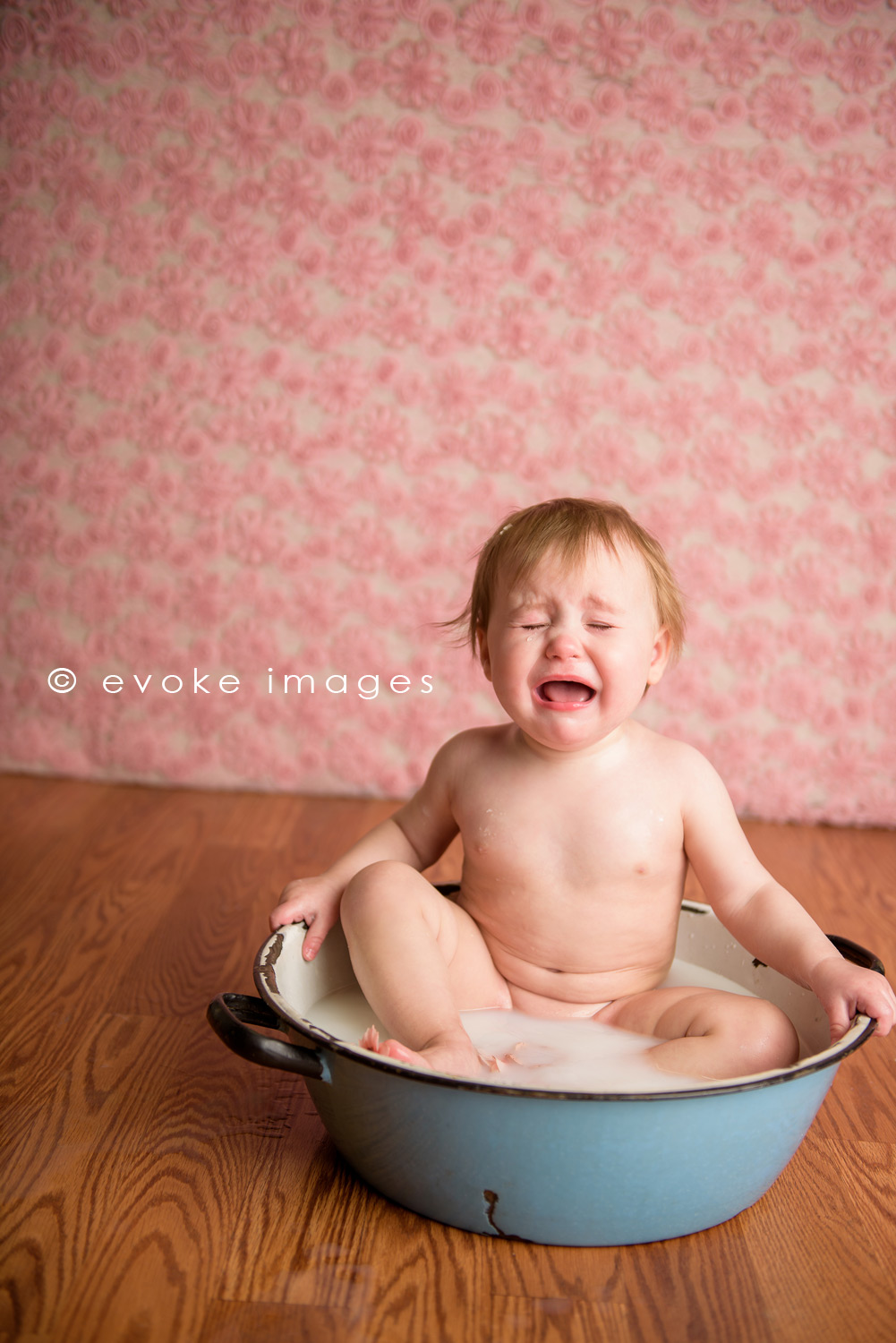 Meanwhile – big sister was happy to polish off that cake for her. She was oh-so dainty using a spoon rather than her hands! She even shared with dad – which was the most adorable thing ever.
Hugs for mom – always the best way to end a session!